Out of an abundance of caution because of the weather, we are going to cancel our PM service and AWANA tonight (1-23-22).
– Pastor Harriman
---
Coming Up…
Jan. 29 – (Saturday, 9:00 am), Breakfast, followed by a presentation of a security plan for FBC (all are invited who are interested in this aspect of our church ministry, there will be opportunities to volunteer for various responsibilities)
Feb. 13 – (Sunday), AM Message – Ken Miller; PM Message – Ron Miller
Feb. 20 – (Sunday), AM & PM Message – Missionary Tim Tanner (Campus Bible Fellowship in Syracuse)
April 15 – (Friday, 7:00 pm), Good Friday Service
April 17 –  Resurrection Sunday
---
AWANA BEGAN SEPTEMBER 12 — SPACE IS STILL AVAILABLE!

You can download the AWANA 2021-2022 schedule from this page.
Grab a Registration Form here to fill it out before you come and save time!
We run Sunday evenings from 5:45pm to 7pm for ages 3 through 6th grade!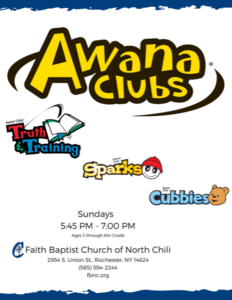 ---
COVID Guidelines Update (December 12, 2021)
We are open for in-person worship (at full capacity). We offer Sunday School for all ages at 9:30 am; Sunday Morning Worship at 10:45 am (both in-person and live-stream – https://www.youtube.com/channel/UCLw9sPeiixFBA7XnZjmbqKA) and Sunday Evening Celebration at 6:00 pm (live-streamed when we are able). We also meet on Wednesday evening – for our Bible Study and Prayer Meeting at 7:00 pm.
Our Nursery is staffed and available to help parents of infants and toddlers. We offer Children's Church geared for three-year-olds up through first grade. Parents decide if they want their children to participate or not and, and if they want their children to wear masks (or not).
CURRENT COVID guidelines (for meeting in-person at Faith Baptist Church):
Those who have any cold, or flu, or COVID-like symptoms, we urge you to please stay home and watch the live-stream. Also, if you are at high risk and uneasy about being in a group of people, the live stream is available to you for that purpose.
The state has issued a mask mandate for indoor gatherings starting Monday, Dec. 13th. We are asking you to wear masks on your way in, as you walk around and talk to people, and on your way out. It is up to you if you want to keep it on or not when you are sitting in the pew. And, parents, you make the decision about whether you want your children to wear masks or not. We have a supply of one-time-use masks at each of the entry doors if you want one. We spaced out our pews so they are, once again, 5′-6' apart depending on which section you choose.
It can be an awful experience to contract this virus. We don't wish it on anyone. Be sensitive to other's concerns, continue to wash your hands or use sanitizer, allow people their personal space, those who wear a mask will be respected, and we will trust the Lord to be merciful so we can continue meeting in-person.
If the situation changes, we will let you know.
---
Regular Weekly Schedule…
Sunday School (classes for all ages) – in-person at 9:30 am
Sunday Morning Services – in-person and online at 10:45 am; the link to watch our live-streamed services is: https://www.youtube.com/channel/UCLw9sPeiixFBA7XnZjmbqKA
Sunday Evening Celebration – in-person at 6:00 pm (live-streamed when possible, the same link as above)
Wednesday Prayer Meetings – 7:00 pm; Teen Club – 6:45 to 8:00 pm
---
Archived Bible Conference Podcasts :
Spring 2019 Bible Conference with Dave Warren
Spring 2017 Bible Conference with Paul Jackson
Spring 2015 Bible Conference with Stan Mohr
Spring 2011 Bible Conference with Jim Grier
Spring 2009 Bible Conference with Pastor Tom Wright
Spring 2008 Bible Conference with Dave Warren
Fall 2007 Bible Conference with Pastor T. W. Teall
---
Building Information:
CHURCH PHONE: 585-594-2244
CHURCH ADDRESS: 2954 S. Union St. Rochester, NY 14624
Email Pastor Harriman: