WINTER / SPRING 2020
---
NOTICE: All of our gatherings, meetings, activities, and services are cancelled, through April 2 at this point. We will evaluate the information we have at that time and ask the Lord to help us make wise decisions going forward. This page will be updated as we make further decisions.
We do plan to live-stream video of the Sunday morning messages (10:45 am). If you have a FaceBook account you can find it on the church FaceBook page (search for "Faith Baptist Church of North Chili"). Be sure to "Like" the page – then you'll see it on your time line as the streaming begins. Or, you can use this link: http://fbnc.org/youtube/ to get it. If you aren't able to watch it live-streamed, they will be recorded and uploaded to this website as podcasts.
GIVING: We are not set up to receive on-line giving yet, so if the Lord prompts you to give, you have a couple of choices. You can put a check or your offering envelope in the mail. If the envelope is addressed to the church (see address below) and marked, "Attn: Financial Secretary," the envelope won't be opened by anyone other than the financial secretary and your giving will remain private. You can also direct your bank to send money to the church as a bill-pay option. The financial secretary will be the one to open and see those also. We  need to continue to support our missionaries and pay our bills..
We would still like to have Sunday, March 29th (or the time around then) as a time to give a special gift, over and above our regular giving, to the debt reduction from our Major Projects Loan.
Wednesday – 7:00 pm, Auditorium Bible Study & Prayer Mtg.;  (also at 7:00 pm, Teen Club meets)
Sunday – 5:45 pm, Sun.,  AWANA Clubs (September 15, 2019 through May 17, 2020)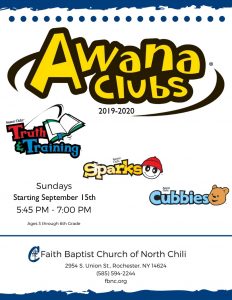 April 10 – Friday, 7:00 pm, Good Friday Service
April 12 – Resurrection Sunday: 8:00 am, Son-Rise Service (followed by breakfast); 9:30 am, Family Bible Classes; 10:45 am, Resurrection Sunday Service; (no AWANA or Evening Celebration this day)
---
Current Series:
Matthew (morning) |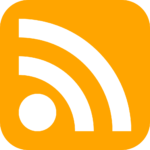 Archived Bible Conference Podcasts :
Spring 2019 Bible Conference with Dave Warren
Spring 2017 Bible Conference with Paul Jackson
Spring 2015 Bible Conference with Stan Mohr
Spring 2011 Bible Conference with Jim Grier
Spring 2009 Bible Conference with Pastor Tom Wright
Spring 2008 Bible Conference with Dave Warren
Fall 2007 Bible Conference with Pastor T. W. Teall
---
Service Times:
SUNDAY: Family Bible Classes – 9:30 am; Morning Worship – 10:45 am; AWANA Clubs – 5:45 pm; Evening Celebration – 6:00 pm
WEDNESDAY: Bible Study & Prayer Meeting in the auditorium – 7:00 pm; Teen Clubs – 7:00 pm
---
Building Information:
CHURCH PHONE: 585-594-2244
CHURCH ADDRESS: 2954 S. Union St. Rochester, NY 14624
Email Pastor Harriman: